Other items you might be interested in
Item Description

Related Download

Product's Reviews (9)


DC-DC converter DC(9V-60V)to DC 5V 3A 15W
Keywords: battery electric vehicles for voltage conversion
Product details: 
1, Power Name: 9 to 60V turn 5V 1 to 8A
2. Nature: Synchronous Buck Power
3. Input voltage: DC9-60V, hundred percent voltage 60V, 48V battery for use, 48V 59V battery is probably full of multi-point, not to 60V, 48V battery if you are, be sure to select the pressure equal to or greater than 60V power to the job.
4, the output voltage: DC5V
5, the output current: 1A 2A 3A5A8A, customers according to their current size needs to choose to buy.
6, the protection function: output short circuit, overload
7. Volume Specifications: 46 * 32 * 18MM, Weight: about 65G
8. Glue craft, waterproof, dustproof, shockproof
9. hundred percent import synchronous rectifier chips, high conversion rate of 90% at full load (see figure below) up to 95% lower than the heat, long working full temperature 45 ° 5A
10, the working temperature: -25-65 °, limit -40-80
11. Note: There is no reverse polarity protection, be sure to follow the wiring instructions wiring, reverse power will burn, the red line is the input positive and negative black line for the public, the yellow line is the output cathode
About pressure and conversion rate below:
Input 60.9V output 5V5A full output power 25.6W,
Conversion = input power / input power = 25.6 / 60.8 / input current, this table is not accurate to the back of the display data, we will follow to calculate the maximum consumption of 0.49, and 25.6 / 0.49 / 60.8 = 85.9%, of course, full-load efficiency much higher than this, because we follow the greatest to count, even if consumption is 0.49 have this efficiency, the real efficiency, you can imagine the

Model
YS-3648-5V-15W
Input rated voltage
Input voltage range
DC(9-60)V
Efficiency
up to 90% of the output
Output voltage
DC5V
Output current
3A 
Output rated power
15 Watts
Voltage regulation
< 1%
Load regulation
< 2%
Ripple
Working temperature
-25

℃

~+65

℃

Waterproof rating
IP68
Over-voltage protection
YES
Over-current protection
YES
Over-temperature protection
YES
Short-circuit protection
NO
Item size
46 * 32 * 18MM
N. Weight
65g
Cooling way
Free air convection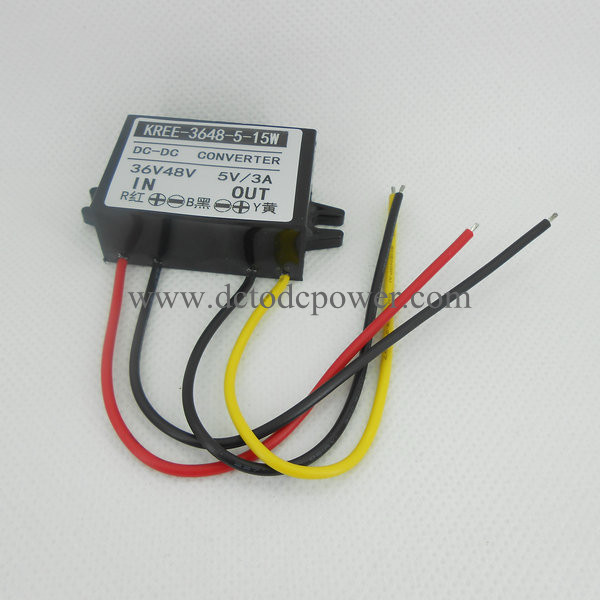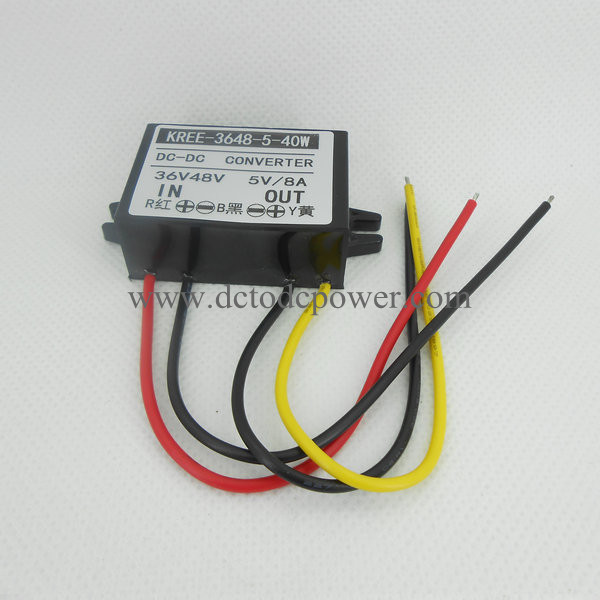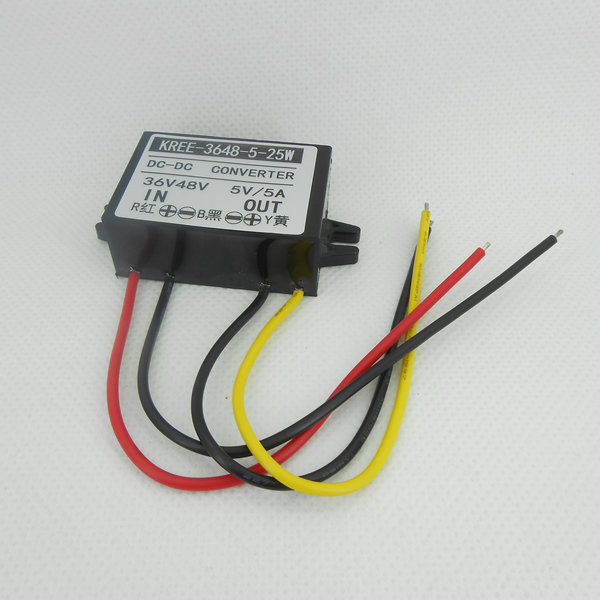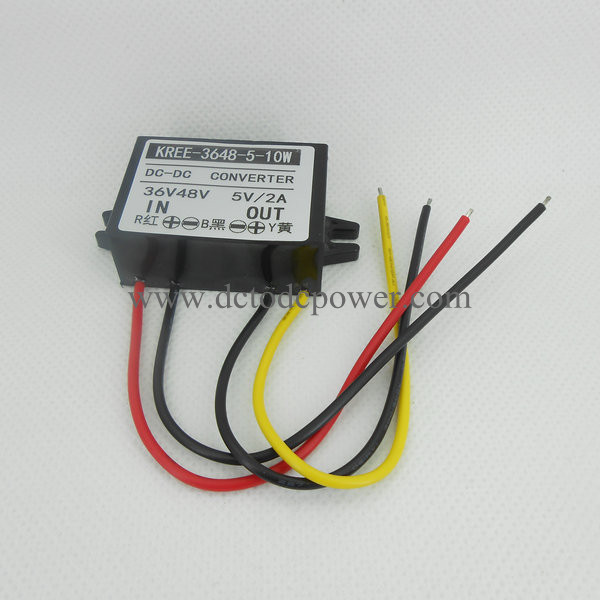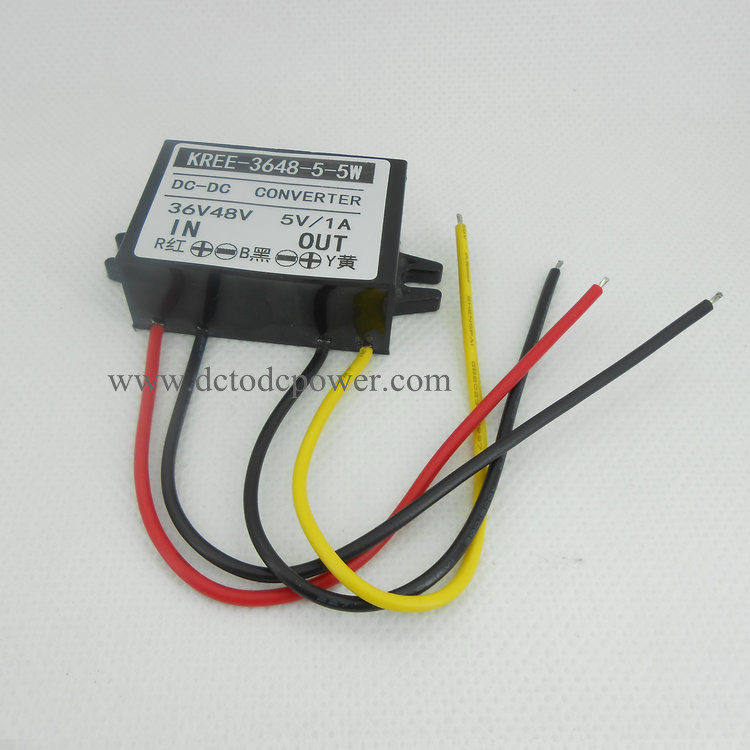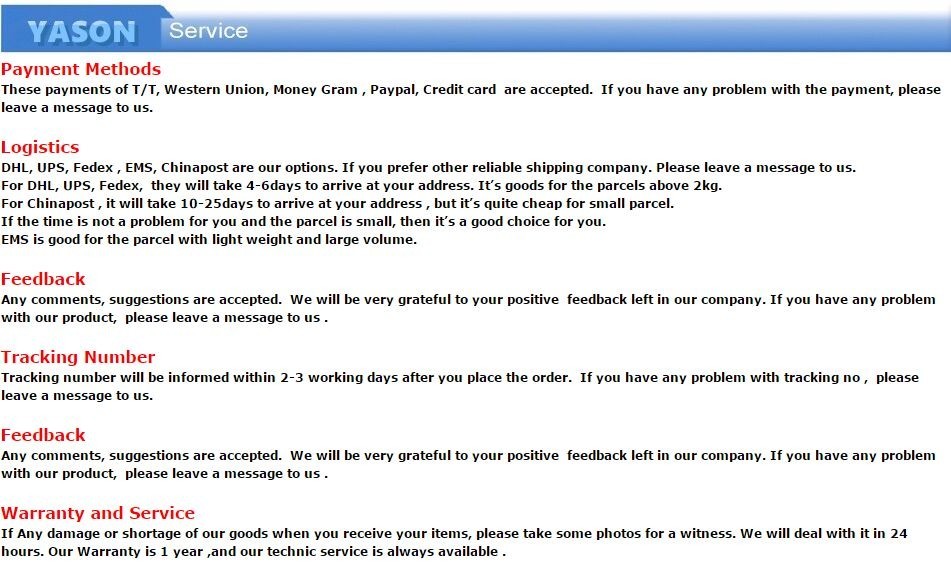 This product was added to our catalog on Monday 09 March, 2015.