Other items you might be interested in
Item Description

Related Download

Product's Reviews (9)


DC-DC converter DC(7-40V)to DC 5V 5A 25W
Keywords: power converter
Product Type:YS-1224-5-25W
Parameters Table
 Input voltage: (between DC7V-40V)
 Output voltage: DC5V
 Output Current: 5A MAX 5.5A peak 
 output power: 25W
 Conversion efficiency: up to 96% of the output ripple: 50mV (MAX) 
 Operating temperature: Industrial grade (-40 ℃ to + 85 ℃)
 Volume: 43 * 25 * 20mm 
 Weight: 0.045KG / a
 Features
1. Imported integrated switching regulator module manufacturing.
2. synchronous rectification, the conversion rate of 96% or more, very low heat.
3. reverse polarity protection, over-voltage, over-current, over-temperature, short circuit protection automatic braking function, and work in the conditions of recovery.
4. Aluminum alloy casing, epoxy potting, waterproof, shock, moisture and dust.
5. The line length is about 15CM, slim, small size, easy installation.
6. Connection: Enter the red (+) black line (-), the output of the yellow line (+) black (-).
7. Scope: bus, CMB, large trucks, motor car, solar power, bus display, taxi advertising screen, absolute taxi radio without interference, car audio, LCD TVs, LED, intercom and monitoring systems .
Note:
1. Power comes with reverse polarity protection, even in the absence of electronic basis can try the same. Pick the wrong answer it like a new turn, will not cause any harm to the power supply.
2. To ensure that the module can output enough voltage and power, make sure there is adequate input supply voltage and power.
3. Please average output of more output with load line, please hasty merger with load.
4. It should be noted the maximum current output value reached thermal power module (module to give the best to leave some of the current margin, which last longer, do not use the maximum possible)

Model
YS-1224-5-25W
Input rated voltage
Input voltage range
DC(7-40)V
Efficiency
 up to 96% of the output
Output voltage
DC 5V
Output current
5A
Output rated power
25 Watts
Voltage regulation
< 1%
Load regulation
< 2%
Ripple
50mV (MAX) 
Working temperature
-25

℃

~+65

℃

Waterproof rating
IP68
Over-voltage protection
YES
Over-current protection
YES
Over-temperature protection
YES
Short-circuit protection
NO
Item size
43*25*20mm
N. Weight
45g
Cooling way
Free air convection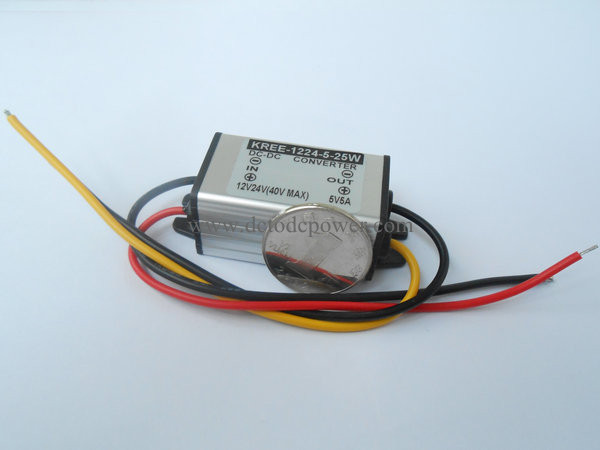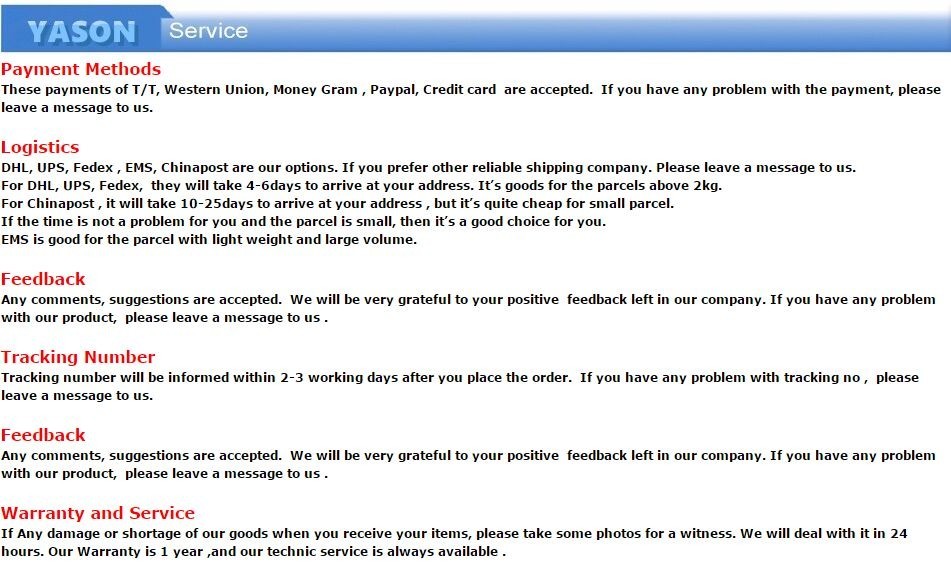 This product was added to our catalog on Tuesday 10 March, 2015.