Other items you might be interested in
Item Description

Related Download

Product's Reviews (9)


DC-DC converter DC(8V-30V)to DC 5V 2.5A
Product Type: YS-12-5
Color Classification: MICRO left bend, DC3.5 * 1.35, MICRO right-hander, right-hander mini, mini left bend, MICRO straight head, mini Straight
Product details:
1, Model: F3025
2, the input voltage 8-30v, will not burn out the power, then there will be no lower than the 8v power function, designed to 12v car use, input  Over 16v, default is not recognized, the power will not output
3, the output voltage: DC5v, 5.6v voltage protection
4, the output current: 2.5A overcurrent current settings can be set between 0-3v, have special needs, please contact customer service
5, the protection function:
(1) Input reverse polarity protection: Enter the reverse would not burn out the power
(2) Output short circuit protection: If the output is shorted, the input will be no excess energy inflow, not form accumulation of heat energy,Spontaneous combustion occurs (one hundred percent)
(3) 5.6-5.8v output overvoltage protection (one hundred percent)
(4) Delay Start: Enter the access to power after the automatic delay 12 seconds after the official launch of the power, because the car to avoid the self-test and made High voltage surge into the device restarts phenomena and the car starts to form its own impact on the power supply
(5) optional low pressure off function: to set up several different starting voltage for customers to choose, by selecting the voltage, do Battery voltage monitoring role, selectable voltage
(6) The monitoring time selectable settings: If you want to continue to run the recorder and other equipment after stopping, you can use this power Select the monitoring time, the current time there is an optional 12 hours .24 .48 hours and hours of infinity,
(7) instantaneous undervoltage delay function: power during operation, if there is a sudden buck, as long as ratio of less than 8v, ACC also point Under the circumstances, even if you set the minimum starting voltage, power supply will continue to work for 30 seconds, 30 seconds if the input voltage is restored back,Power also continues to work, if the recovery does not come back really close. For example, the recorder running, sometimes suddenly open headlights, will
The rapid formation of a voltage drop down below the starting voltage, if they have this function, the recorder will not die, but can be delayed for 30 seconds,In 30 seconds after confirming the voltage is not restored back before officially closed.

| | |
| --- | --- |
| Model | YS-12-5 |
| Input rated voltage | |
| Input voltage range | DC(8-30)V |
| Efficiency | |
| Output voltage | DC5V |
| Output current | 2.5A  |
| Output rated power | 12.5W |
| Voltage regulation | < 1% |
| Load regulation | < 2% |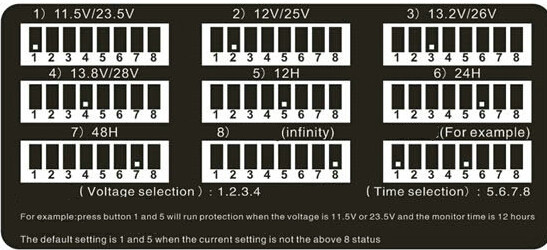 This product was added to our catalog on Tuesday 10 March, 2015.