Other items you might be interested in
Item Description

Related Download

Product's Reviews (9)


AC-DC converter AC24V(16V-28V)/DC(8V-40V)to DC 5V 3A 15W
Keywords: USB car power buck
Product Type: YS-AC24-DC5-15W-USB
Parameters Table
 Input voltage: AC: 24V (wide voltage 16V-28V) or DC (wide voltage 8V-40V)
 Output Voltage: DC: 5V
 Output Current: 3A peak current MAX: 5A
 Output Power: 15W
 Efficient conversion rate: more than 96% Ripple: 80MV
 Working temperature: -40 ℃ ~ + 85 ℃
 Volume Specifications: 46 * 32 * 18MM (L * W * H)
 Weight: 0.055KG / a
 Baby details:
1, first you have to remember, this is a (AC or DC input may be) of the power conversion module (input, regardless of polarity), so the inputs are two red lines
2, the input AC: between the voltage range AC16V-28V. Input DC: voltage range between DC8V-40V, wide input voltage can use a real car carts.
3. Output: 5V standard USB female port, length 28CM. USB power supply on the market a lot of input current reach 3A, 2A may have hot, address this issue, we can solve power, long-term work within 3A no problem, we are using a USB cable, coarse wire.
4, section baby can work long 3A peak 5A, which means you can load device 15W or less long-term stability without adding any heat sink. Performance is very stable, full power enough.
5, all components are imported, synchronous rectification, the plastic casing, waterproof, shock, moisture and dust.
6. Enter the high-voltage transient protection, output overcurrent protection, output short circuit protection, chip overheating protection.
7, this power can not be used in Apple's mobile phone, Samsung brand mobile phone charging. Other phones can.
8, applicable voltage range appliances: mobile phones, mobile hard disk, electronic dog, GPS, audio, navigation, tachograph and so on.
 Note Note:
 A lot of customers are concerned with 5A of power can not be used on the following devices 5A, will burn it?
 A: No, because this power is our constant output current is adaptive output, the converter is based on your equipment to the output current demand, as long as your device can be used in the following 5A, 5A on the line does not exceed . Even if your device is also the same as the normal use of 0.5A contrary, the current needs of the smaller your device, and then you choose bigger power supply actually more secure. Such power has margin, no heat, more secure, more reliable! I hope reassure parents to buy!
 2, water supply, normal use, preservation six months.

Model
YS-AC24-DC5-15W-USB
Input rated voltage
AC24V
Input voltage range
AC(16-28)V/DC(8-40)V
Efficiency
up to 96% of the output
Output voltage
DC5V
Output current
3A 
Output rated power
15 Watts
Voltage regulation
< 1%
Load regulation
< 2%
Ripple
80MV
Working temperature
-40

℃

~+85

℃

Waterproof rating
IP68
Over-voltage protection
YES
Over-current protection
YES
Over-temperature protection
YES
Short-circuit protection
NO
Item size
 46 * 32 * 18MM
N. Weight
55g
Cooling way
Free air convection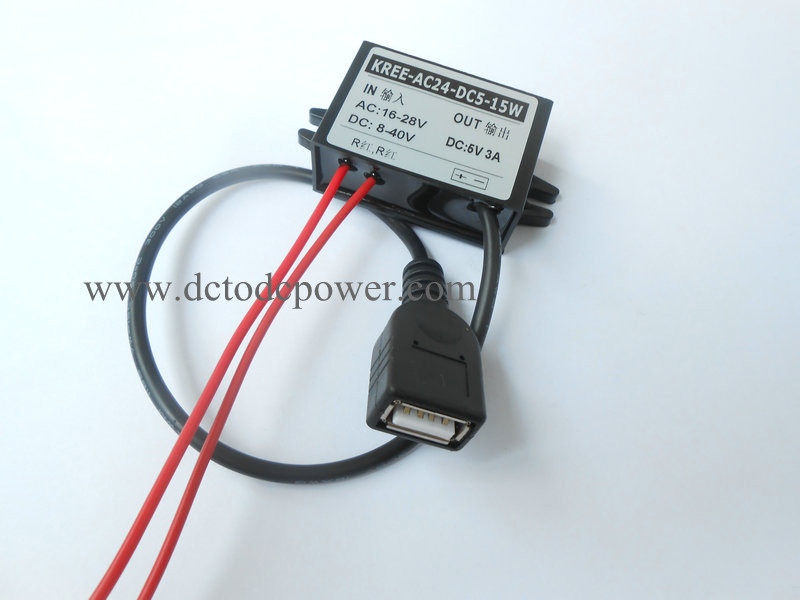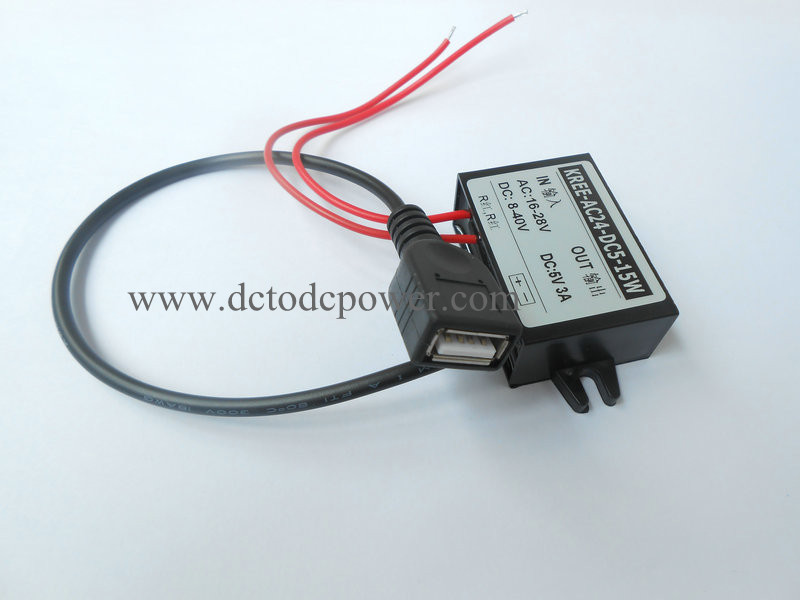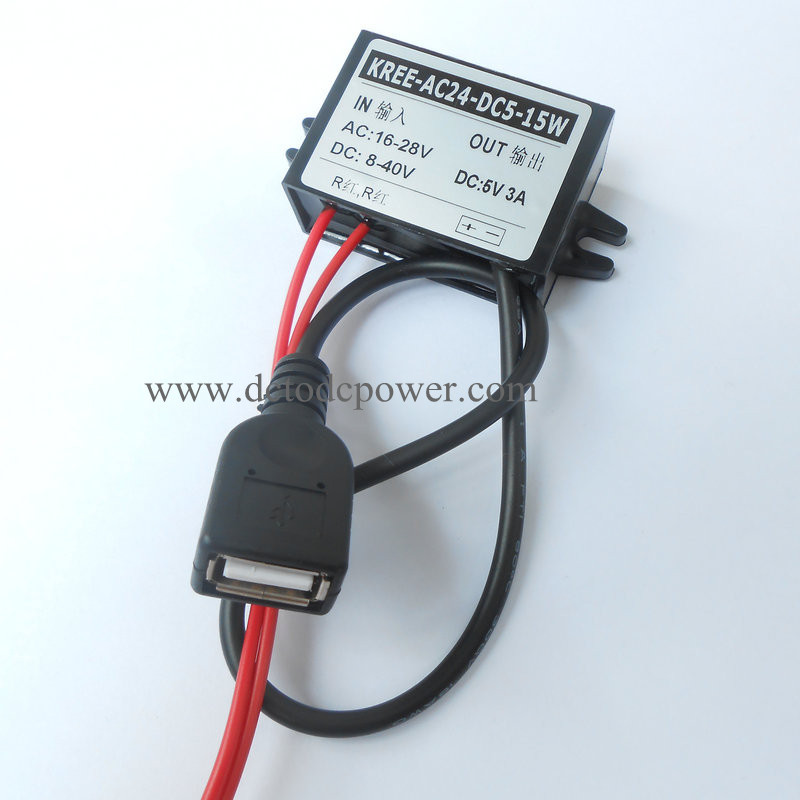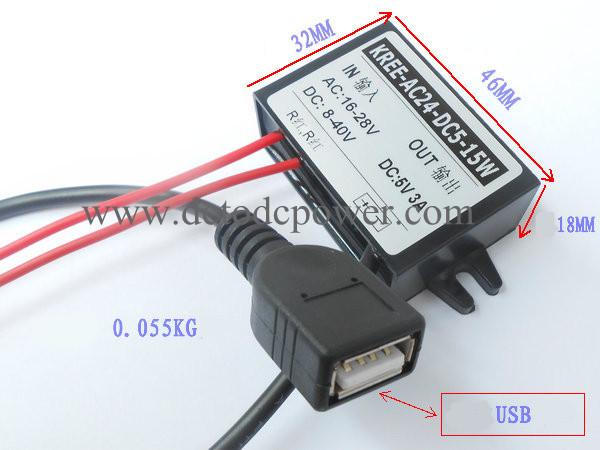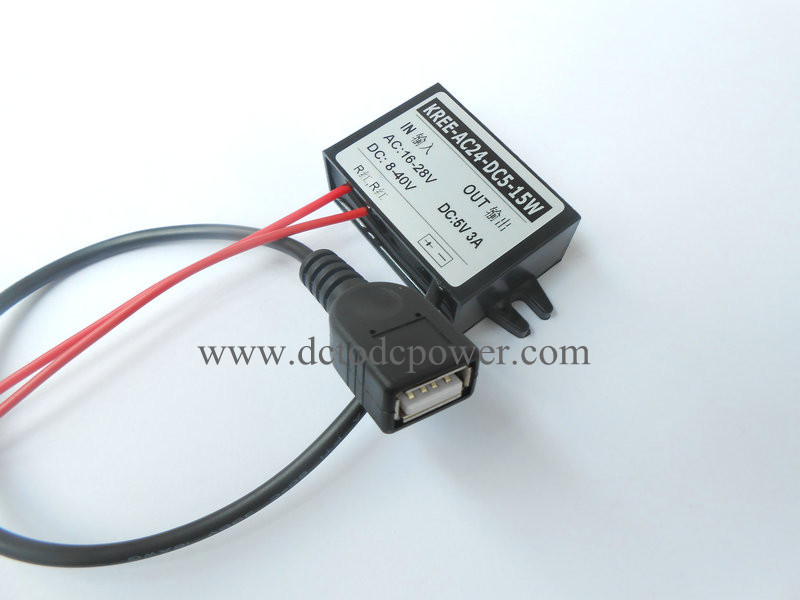 This product was added to our catalog on Tuesday 10 March, 2015.