Other items you might be interested in
Item Description

Related Download

Product's Reviews (9)

DC-DC converter DC24V(16-40V) to DC13.8V 15A 200W  
Product Type: KREE-24-13.8-200W
The parameter table
 Input voltage: DC24V (16V-40V)
 Output voltage: DC13.8V
 Output Current: 15A
 Output Power: 200W
 Conversion rate: more than 93% 
 Ripple: 80MV
 Working temperature: -40 ℃ ~ + 85 ℃
 Volume Specifications: 74 * 74 * 32MM (L * W * H)
 Weight: 0.3KG 
Details:
1. Wide input voltage to any one of the output voltage can be accurately between 16V-40V 13.8V, voltage stability.
2, section 15A baby can work long-term, long-term work with equipment 200W or less stable performance.
3, all the components are imported, synchronous rectification, aluminum alloy shell, waterproof, shock, moisture and dust.
4, the output of high-voltage transient protection, output overcurrent protection, output short circuit protection,, anti-irrigation protection, chip overheating protection. Special note: for example, to (to the battery, motor, motor) in these three areas, an ordinary power supply must be coupled with a diode in the power of positive 13.8V output, so as to prevent excessive current playing back to power; to protection of damage to the power, but we are certain that this power comes with its own protective function of this anti-irrigation; the pro who can be assured.
5, for a voltage range of appliances: electric motors, audio, navigation, surveillance, LED car display, air conditioning, fans, solar energy, photovoltaic energy, DVD, LED lights, motors, pumps, batteries, motors, electrical and industrial equipment appliances and so on.
Note Note:
 1, this section without the reverse power protection, the positive and negative input and output lines can not be reversed, please parents who must pay attention to.
 2, many customers are concerned with 5A, 5A power can not be used in the following equipment will burn it?
 A: No, because this power is our constant output current is adaptive output, the converter is based on your equipment to the output current demand, as long as your device can be used in the following 5A, 5A on the line does not exceed . Even if your device is also the same as the normal use of 0.5A contrary, the current needs of the smaller your device, and then you choose bigger power supply actually more secure. Such power has margin, no heat, more secure, more reliable! I hope reassure parents to buy!
 3, waterproof power supply, normal use, preservation six months.

| | |
| --- | --- |
| Model | KREE-24-13.8-200W |
| Input rated voltage | DC24V |
| Input voltage range |  16V-40V |
| Efficiency | more than 93% |
| Output voltage | DC 13.8V |
| Output current | 15A |
| Output rated power | 200 Watts |
| Voltage regulation | < 1% |
| Load regulation | < 2% |
| Ripple | < 80mV |
| Working temperature |   -40℃ to +80℃(Industrial Temperature) |
| Waterproof rating | IP68 |
| Over-voltage protection | YES |
| Over-current protection | YES |
| Over-temperature protection | YES |
| Short-circuit protection | NO |
| Item size | 74 * 74 * 32MM |
| N. Weight | 50g |
| Cooling way | Free air convection |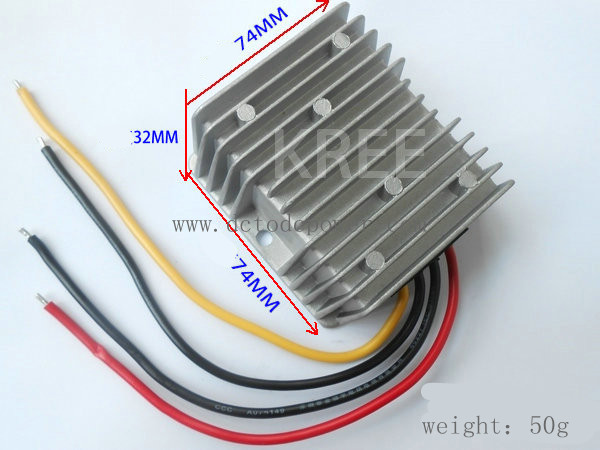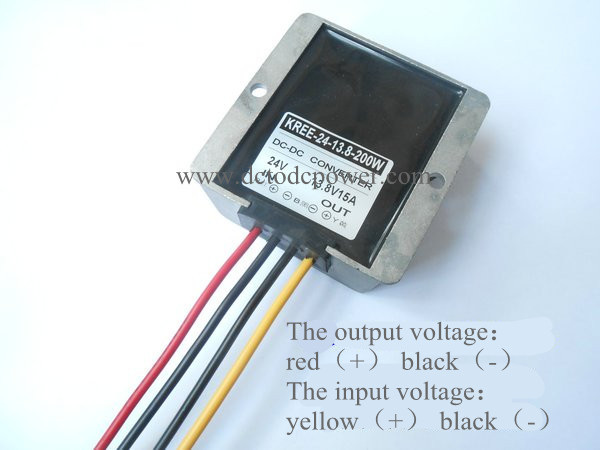 If you have any another question,Welcome to consultation!
This product was added to our catalog on Friday 13 March, 2015.